Welcome to the Blood Brothers 2 Wiki!
This wiki is dedicated to provide all the info, tips, and tricks to give you the best gaming experience. This wiki is run by a community dedicated to helping Players and Fans, like you, to find the best familiars and learn tactics to get the most out of your Blood Brothers experience.


We currently have 0 active users and 34,175 edits to 1,811 articles.

Before asking a question, be sure to check our FAQ.

Note: A few rules must be respected. Please do not post your ID's on any page but your profile. They do not belong in comments, and will be removed. Do not use this wiki to violate the terms and conditions you agreed to when signing up for Mobage or starting Blood Brothers.
---
Recently Released Commanders
Oct 13

| | | | |
| --- | --- | --- | --- |
| | | | 4/6 |

| | | | |
| --- | --- | --- | --- |
| | | | 4/5 |

| | | | |
| --- | --- | --- | --- |
| | | | 4/5 |

Oct 6

| | | | |
| --- | --- | --- | --- |
| | | | 5/6 |

| | | | |
| --- | --- | --- | --- |
| | | | 4/5 |

| | | | |
| --- | --- | --- | --- |
| | | | 4/5 |

Sep 29

| | | | |
| --- | --- | --- | --- |
| | | | 4/5 |

| | | | |
| --- | --- | --- | --- |
| | | | 4/5 |

| | | | |
| --- | --- | --- | --- |
| | | | 5/6 |

Sep 22

| | | | |
| --- | --- | --- | --- |
| | | | 4/6 |

| | | | |
| --- | --- | --- | --- |
| | | | 4/5 |

| | | | |
| --- | --- | --- | --- |
| | | | 4/6 |
CURRENT EVENT
The Iron Vow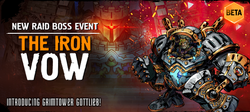 Event Ends: October 19, 2016 12:00:00 PT
Event Ended
---
<chat></chat>
---
CURRENT DAILY LOGIN